Nostalgic and Classical singer
This is just a few photos. In the next post I'll give a sneak-preview of the forthcoming CD; I promise!


Here is one configuration of the group, performing for the operagoers at Grange Park. The crowd seemed happy! In fact, one fellow came and did a dance with me and a bit of barber-shop harmonizing to Moonlight Bay, and someone whispered to me that he'd conducted that evening's opera!
Hilariously, one of the principals, a baritone, recognised me from a Messiah we'd done together last Christmas in Derby Cathedral. I love it when worlds collide.


Here is the same dress, but instead of Matt, Zac (accordion, piano), and Nick (percussion), we have Matt, Kit (violin, piano), and Simon (baritone saxophone, flute, clarinet). And Matt doing arranging, directing, piano, banjo, guitar.
The music-stands are all side-by-side for this particular number that Matt arranged, because the arrangement needed to be spread out over three of them. The banners looked very funny like this!


Kit and Matt did some wonderful 4-handed numbers. The venue was the Pavilion Gardens in Buxton, for the festival. We had a very full house, and people were enormously enthusiastic. It made me happy that the 1871 Conservatory was given something befitting (or at least closer to) its era. We were entirely unplugged, but everyone said that we were very easily heard. It can seem wrong for these Victorian tea-houses to vibrate to amplifiers thudding away.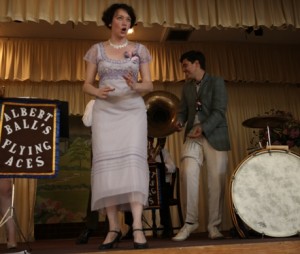 Now, lest it appear that I wear the same dress to everything, here is another one, at the Branscombe Festival, only a week later. I sang with Albert Ball's Flying Aces, and we were very honoured to be one of the select acts to appear at this very exclusive delight of a festival. We were in good company: I Fagiolini, Philip Higham, Ailish Tynan (every bit as nice as everyone says she is), the Band of the Royal Marines. Above you can see the C.O. of Albert Ball's Flying Aces, with his spoon-guard. Without it, the clanging cutlery can cause serious bruising. We were entirely acoustic for this, too, in the Village Hall. Everyone had cream teas, and there was dancing, and some very illustrious guests, including famous Wagnerians and members of Her Majesty's Government.

Standing, left to right: Mr. Dickie Evans, sousaphone; Mr. Jon Butterfield, piano; Mr. Nicholas David Ball, C.O. and percussion; Mr. Ian Rosenblatt, fabulous patron of the arts, whose festival it is and whose guest we were; crazy singing gal in frock; Mr. Petroc Trelawny of the BBC. Front row, kneeling: Mr. Matt Redman, mandolin-banjo; Mr. Simon Marsh, saxophone and clarinet; Miss Ellie Smith, trombone.
And we were on In Tune! I believe you can still hear it HERE.
On Monday and Tuesday Mr Matt Redman and I will be playing WW1 songs at the bedsides of veterans in Care Homes in Cromer, performing at the Norwich "Lights Out" Commemoration in front of an estimated 2000+ people, and then haring back to London to take part in a re-enactment of a Pacifist meeting at the Salisbury Hotel! Then it's all 1910s for the Horniman's "Edwardian Late".