Nostalgic and Classical singer
I guess my entire life has led up to this Centenary. All those hours listening to the hundreds of unfiled 78rpm records outside my bedroom as a child, the sheet music collecting since the age of nine, then discovering all the marvellous, keen-as-mustard musicians in London who are equally passionate about bringing this music to vivid life…well! It's here. 2014. And I have a heck of a collection of set-lists. Here's a picture from my first full-blown centenary gig, of many.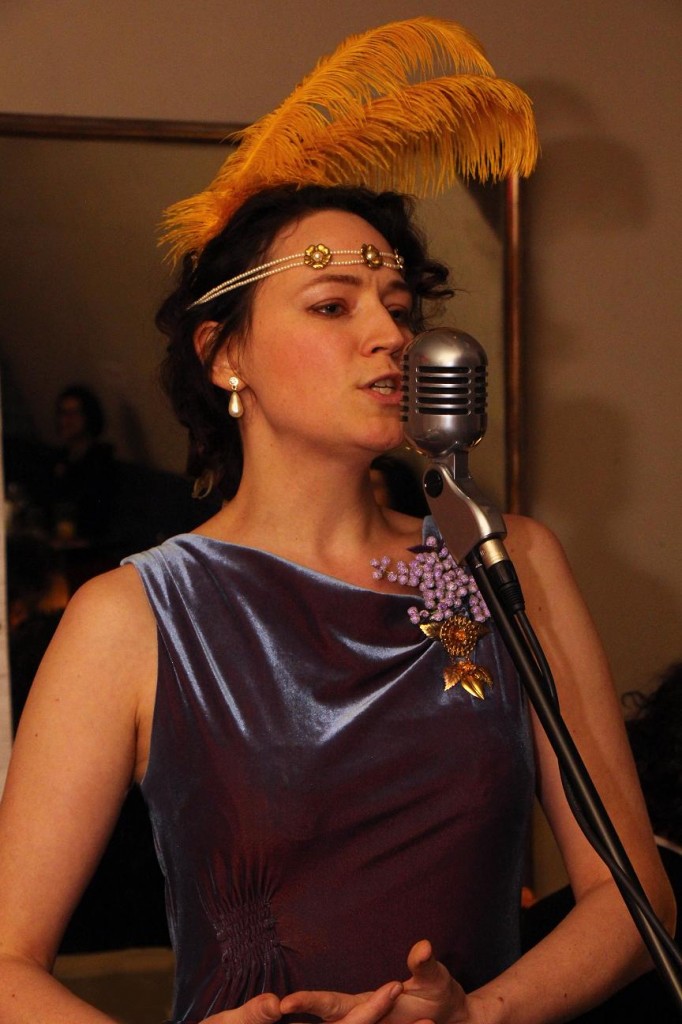 In July, with Albert Ball's Flying Aces – headed up by the amazing dynamo (and arranger for Our Lovely Day) Nicholas David Ball – I'll be appearing at the Branscombe Festival (more anon), in truly august company. Other performers at this small but oh-so-select festival include Sumi Jo, I Fagiolini and the Royal Marines! ABFA, as you may remember, is a band of First World War Flying Aces who happen to play exceedingly good ragtime.
With Matt Redman, absolute master of more instruments than I can list here (and arranger for Our Lovely Day) I am planning a CD. More on THAT, later. Matt, and new band member Zac Gvirtzman, provided a most astounding two-man-band at "All Over By Christmas", the New Sheridan Club Ball, where guests dressed up as Nurses, FANYs, Suffragettes, Edith Cavell, German soldiers, Tommys, Incompetent Generals, wounded, Lord Kitchener…
Matt and Zac played banjo, accordion, clarinet, guitar, mandolin, piano, piano duet, saxophone, and also did backing vocals. There were no two numbers using the same combination.
We are, emphatically, for HIRE. Book soon. We'll be appearing in the Buxton Festival, at Grange Park Opera, the aforementioned Branscombe, and Swaledale.
We have pacifist songs, we have laments from poppy fields, we have German songs on the inevitability of death in battle. We have rip-snorting recruiting marches, we have hilarious singalongs, and we have tributes to Red Cross Nurses in French and English. Instrumental numbers include all things 1910s including tangos, chorinhos, and of course, ragtime. And some Elgar.