Nostalgic and Classical singer
The Victorian Galleries of the National Portrait Gallery resounded to a sing-off of "Pack Up Your Troubles" and "Tipperary". I really relished the back-drop of busts: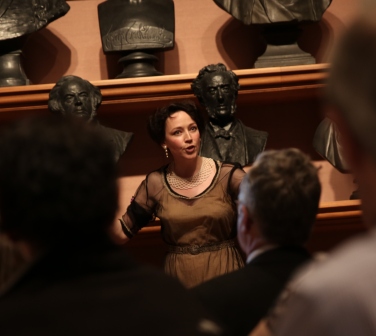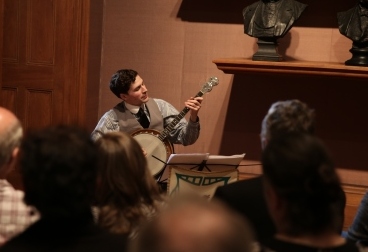 Jolly fun. We performed German trenches songs to pin-dropping silence and attentive faces, and then everyone clapped in time to the saucy French march of the chorus to "Madelon". Mr. Redman was his usual dapper self. This was, for him, the third of four gigs that day. For me it was only the third of three.
My goodness it was hot.
We have several interesting things coming up: A re-enactment at the Salisbury Hotel on Green Lanes of the first peace demonstration on August the 5th, 1914, the day after War was declared. And an Edwardian 'late' at the Horniman museum, and of course Buxton, Branscombe and Deal festivals. Just hit the ol' "Gigs" link at the top of this page!
In the meantime, if you're interested in the Victorian and Edwardian phenomenon in ribbons, lace and chiffon that was the Gaiety Girl, do buy the current copy of the Chap magazine! I've written another article for that esteemed – or infamous – organ.