Nostalgic and Classical singer
Come one come all to Ragtime Parlour in Notting Hill! Wednesday the 25th of July! This is going to be one of the best concerts ever…THREE sets of songs including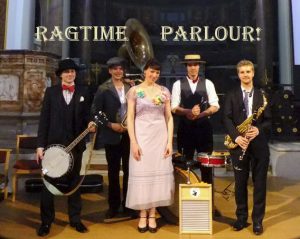 Moonlight Bay
Oh Johnny
Always
the Honeysuckle and the Bee
Tango des Roses
Don't Bring Lulu
That Old Feeling
Whispering
Button Up Your overcoat
Put Your Arms Around Me
If You Were the Only Girl in the World
and more…
Plus songs from Albert Ball's Flying Aces band, plus The Lucky Dog Picturehouse! Buster Keaton's "Cops" and Felix the Cat, accompanied live by Jon Butterfield. Popcorn, wine (included in ticket price) and Ginger and Greene, London's best vintage hair and makeup team. There will be Matt Redman on banjo and guitars, Nick Ball on vintage drums and spoons and effects (including voice!), Simon Marsh on clarinet, Dickie Evans on Sousaphone, and the aforementioned Jon Butterfield on piano. And Emily O'Hara's famous Lucky Dog experience.
All this in the venue that saw the world premiere of Oscar Wilde's scandalous "Salome" in 1905, and also a teenaged Laurence Olivier's acting debut twenty years later. Historic boxing matches, Marie Lloyd, Margaret Rutherford, Rex Harrison and many others have featured on its boards.
Anyway, step right up and please buy a ticket:
HERE
I promise you won't regret it.
Meanwhile, the other blog continues on its merry way for those who like more chattiness:
TRIP TO TORONTO
SWALEDALE FESTIVAL
JUBILEE
See you on Wednesday the 25th at the 20th Century Theatre!