Nostalgic and Classical singer
New Patricia Hammond EP – A Nice Cup Of Tea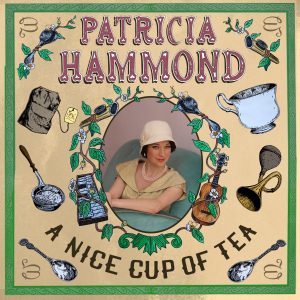 Available 23.10.11 – Pre Order now available. Click here to order now


Revivals and longing for things past are everywhere, from Downton Abbey to knitting circles, vintage clothes, home baking, even sweet-shops; nostalgia for things from the past is flourishing around Britain.
Patricia Hammond has always loved all things old, particularly people and particularly songs.
By night, Patricia buries herself deep into the musty hovels of Soho and East London to perform with speakeasy-style retro bands. By day she sings in hospitals, hospices, care homes and at tea parties for disability groups. Always she sings her beloved songs from the 1840's through to the 1950's, accompanied by her Lovely Parlour Band, presenting the music in the most authentic way.
Mezzo Soprano Patricia has been working with Music in Hospitals, Magic Me and Lost Chord for over a decade, trying out hundreds of songs in front of those who knew them first. The effect of these songs can be nothing short of miraculous, like the time a man in Wales suddenly started singing along to 'Yours,' having not spoken a word for six years. Or the lady stroke victim who opened her eyes for the first time and formed her lips to the words 'Always'.
Then there's a whole other crowd who've never heard these songs before, denizens of the retro clubs that are springing up everywhere. As a burlesque dancer recently said to Patricia, "You're like an old record without the scratches", a compliment indeed.
Patricia's new 4-track EP entitled ''A Nice Cup of Tea" will be released on October 23rd 2011. Signalling a glorious renaissance of songs which have probably been playing in the background all your life: 'A Nice Cup Of Tea', 'Let Him Go, Let Him Tarry', 'The Honeysuckle And The Bee' and 'We'll Gather Lilacs'. These songs haven't been recorded for years but they've stayed alive in the national memory simply because they're too good to die away, they're just waiting to burst into life again.
Classically trained and a renowned oratorio soloist, Patricia is brilliantly impossible to categorise. She has sung at London's Queen Elizabeth Hall and Royal Festival Hall under Ivan Fischer and Sir Simon Rattle, performed in a drag act, and in 2002 released an album of French Salon Songs.
She loves vintage clothes, once describing herself as dressing 'like a cast-off Edwardian royal mistress' and vintage music. She adores Handel, Vaughan Williams and ragtime, new works and old songs, but most of all she loves singing to an audience.
Wherever you are and whatever you're doing, put the kettle on, put Patricia Hammond's 'Nice Cup Of Tea' EP through your speakers and enjoy a little nostalgia.
"Care homes for the elderly are a notoriously tough gig, and entertainers who do the circuit can be met with anything from heartbreaking, helpless passivity to heckling and walk-outs. But every so often, the singer Patricia Hammond reveals, a miracle makes it all worthwhile." – Daily Telegraph
PATRICIA HAMMOND
NICE CUP OF TEA (EP)
Track List:
1. A Nice Cup Of Tea – this song will be remembered as a jingle for a 1970s tea advert but was a lovely little number from the 1930s made famous by Binnie Hale. Patricia found the sheet music at Oxfam. The arrangement involves spoons, glockenspiel, a ukulele, a kazoo and a whistling chorus.
2. Let Him Go, Let Him Tarry – an Irish folk-song, sung by the actress Jean Simmons in the classic film "The Way to the Stars", one of the greatest British War films ever made. This version has a spontaneous barberhop-quartet singalong.
3. The Honeysuckle and the Bee – The hit song from a 1901 show at the Vaudeville Theatre entitled Bluebell in Fairyland. One of Patricia's most-requested numbers.
4. We'll Gather Lilacs – Ivor Novello wrote this for his show Perchance To Dream in 1945, and here it's given an intimate, chamber arrangement to reflect the hope in its lyrics.