Nostalgic and Classical singer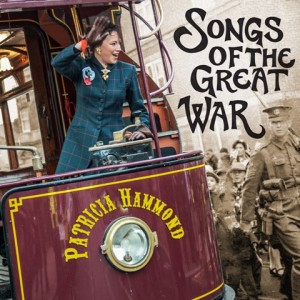 ORDER at Patricia's BigCartel page!
REVIEWS
One of the good things about the ongoing First World War Centenary is the way some of the wartime songs are being reassessed. I just got hold of a recording called Songs of the Great War that takes them seriously and delivers an almost historically-informed approach, stripping back decades of postwar performance practice in arrangements of famous and neglected numbers that references the evidence from old recordings, from field hospital performances and even the trenches themselves…The pleasure of discovery ought to delight anyone with a soft spot for songs of the period. – Andrew McGregor, BBC Radio 3 Record Reviews
New recordings and arrangements by Matt Redman, who also plays a host of instruments from piano to banjo to slide guitar, joined by a number of other musicians. The sound is a lot better, of course, than the old recordings. And Patricia Hammond has a truly beautiful voice and a sweet and charming way with the music." – Donald Vroon, Editor, American Record Guide, May/June 2016
Bravo to you and Matt and all of you! what a very talented lot of people!
We do so appreciate the tender and respectful way you have treated the songs, not wrenching them up to date but just giving them your honest and creative reaction, as of now. – Dame Emma Kirkby

The CD was amazing! We thought we were at the beginning of the last century! – Blandine Chailland, Musee Somme 1916, Albert – Somme – Picardie
Hammond has done her research well and has assembled a very wide variety of tunes, from anguished laments to peppy marching songs and beyond. She has even tapped the overlooked genre of German war songs (Gegen England and Bald, Allzubalde) and included a French drinking song (Quand Madelon). Even though her crystal-clear mezzo-soprano voice was probably trained for salon pieces or light opera, her inherent love for these long-forgotten moments in our musical history brings them alive again, whether she is enthusiastically urging us to march forward or mourning a resultant tragedy.
Special note should be made of her musical accompaniment, with period-influenced arrangements by Matt Redman that capture the mood of each song perfectly. The lyrics, which are easily heard, even remind the listener how the English lexicon has changed in the last 100 years.
The sound quality is extremely good and the liner notes are extensive and enlightening.
This recording by Patricia Hammond is a first-class effort." – Jack Rummel, Ragtime Reviews, January 2016
Patricia Hammond has succeeded in her endeavour to present these songs in the light of day, sounding fresh as a daisy. A terrific disc. – Fanfare magazine, 10/2016
From songs everyone knows to songs neglected for a century, this is popular music at a time of turmoil. The years of the First World War were a turning-point for the nations of the world, and a turning-point in music as ragtime, art-song, folk, tin-pan-alley, parlour ballads, dance novelties, music-hall, palm court and marches jostled with each other to express what that world was feeling at the time. With arranger and period-performance pioneer Matt Redman, Patricia has sought to give as authentic a voice to these feelings as possible, employing an array of musicians and instruments, including saxophone, violin, mandolin, banjo, clarinet, xylophone, cello, cornet, piano, accordion, flute, harp, piccolo and drums (though not at the same time!)
Here's a digest of the thing for you to hear!
The repertoire has been painstakingly researched over years of sheet music collecting, and includes a lament from the poppy fields of Ypres, a Klezmer-tinged pacifist plea from New York, a drinking song from a German Destroyer, a jaunty French tribute to a lady of easy virtue, a piece of hot early jazz about women in the workplace, a heartfelt homage to the Red Cross Nurse, and a heart-rending song penned by a German composer in the trenches of Verdun only two months before his death. All this plus a rare performance of Pack Up Your Troubles with all of its verses, and the Soldiers' favourite "If You Were the Only Girl in the World."