Nostalgic and Classical singer
The 101 concerts in Canada were an absolute whirl of fascination and exhaustion: waking up at 5am to get the 5:45 Langdale bus, the 6:15 Horseshoe Bay ferry, the 7:10 Vancouver bus and Skytrain out to Abbotsford, Mission, Delta, Coquitlam, Ladner, Chilliwack and other outlying areas for 10am, 1:45 and 3pm concerts, back at 8:30 in the evening.
I met a man who worked for Howard Hughes; a Chinese nonogenarian who led a band in the thirties that toured Brunei, London, Singapore, Buenos Aires; a Caribbean-born man who played bongos in an ensemble that was all the rage in 1940s Quebec; a tattooed lady who had played 2nd violin for the Vancouver Philharmonic in the 1950s; and so many other wonderful people. Yet more inspiration to write, which I am doing, like anything. Any gaps in the "Forthcoming Gigs" link are filled with writing.
Some interesting gigs when I got back to London in April: Singing at a vintage dining experience for London Vintage Kitchens, in this case 1913 Paris. Guests were dressed in 1913 finery while I sang and Julio Schwarz Andrade played ragtime piano.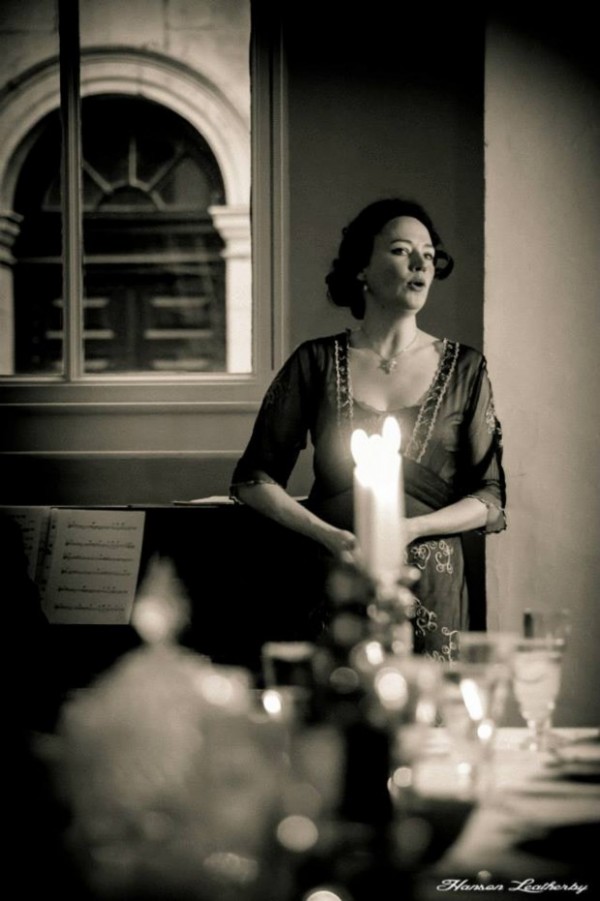 We did a rip-snorting version of My Blue Heaven, in French. A little bit after 1913 but nobody seemed to mind too much. B&W photos by Hanson Leatherby.
And, on the subject of writing, do hie thee to the nearest good newsagent's and get a copy of the June/July "Chap" magazine! Stocklists are HERE. Or else just order one from their site. I highly recommend back-issues, what an array of them, but the June/July one features an article I wrote on the subject of sheet music. And also, if you go to theChap.org, you can hear a track that Matt Redman arranged, and played, using classical guitar, acoustic bass guitar, steel-string guitar (with slide), 12-string guitar, mandoline, ukulele, and bouzouki! All at the same time! And I sing.
We recorded it especially for the article, interpreting my first-ever piece of sheet music without hearing any other versions, in the true spirit of sheet-music explorations: get it from the paper, and not from the record! If you like it, do leave a comment in the comments box!
I must get back to Monteverdi now. After spending a childhood in thrall to the Nadia Boulanger recordings of Zefiro Torna and Chiome d'oro sung by Paul Derenne and Hughes Cuenod, I get a chance to sing them with lovely lovely Emily Atkinson and wonderful musicians this Sunday in the Lovekyn Chapel!